DELAWARE
AFRICAN AMERICAN HISTORY
Willis Phelps, Jr. is a retired 'Airborne' soldier with 42 years of military service and a true lover of "American History". Willis retired in 1998 from the Delaware National Guard with the rank of Master Sergeant and was promoted to Sergeant Major with State Honors. He has been telling anyone who would listen to him, stories of "Black Cowboys" since his youth, growing up in Wilmington, Delaware. Willis is originally from South Carolina, born in Orange County in Bamburg. His parents left the south, like so many others for a chance at a better life in the North. Growing up in Wilmington's southside (Millside), and living in homes built like the 1940's military barrack for factory workers and shipbuilders. Willis attended local schools inspired by what he calls "Old School" Teachers, and stories about his grandparents, uncles, and the 'midwife' who helped with his birth. Willis became an avid listener and reader. Today, he continues the legacy and history of Black folk by telling what he calls, "The Rest Of The Story". 'Sarge' as his friends call him, brings the Heritage of African-Americans to life through "Living History" presentations with the help of his family. Oldest daughter, Phyllis Davis, son, Ray Phelps and the 'real top Sgt' of the family, Mrs. Pat Phelps. They have three other daughters, who also help with the programs. The family thanks one and all for supporting Heritage Productions Company.
---
Historical Background
Willis was born in Bamburg, South Carolina (Orange County), the second child of three to Lucille Bowman Phelps and Willis Phelps, called "Big Bill" by friends and family. Miss Emma was the local midwife who saw Willis "Junior" open his eyes for the first time, July 14th, 1938. Life in the south was not easy for a young family of black folks, even with the skills of 'Bill Bill' who was a master bricklayer and better than most on the 'juice harp' (harmonica). By the end of 1939 Big Bill was looking north and like so many black folks in those times, was packed and on "The North Bound" train. Willis Jr. was 3 years old then his family came to Wilmington, Delaware, attending 'kindergarten' and grade school at the "Millside Community Complex". Millside was a community of World War Two barracks type, wood and concrete houses. The area extended across land which was bordered by Rt. 13 on the west and RT. 9 on the east, with Rogers Road running through it's middle. At it's most northern end was the "Old Duchess Pond" and farm land to Overview Gardens on the south. Each section of the community had front doors which gave then names such as, The "Red Front, The Blue Front or The Green Front". The Blue Front, which sat at Heald Street and Rogers Road had the most 'Apartments' or Two Story buildings, with parking places off Healed Street, exiting at the lower end or through the neighborhood on 'Millside Drive' to 13. The only remainder of the community today is a street located between a Strip Club and an Industrial Park; the street sign reads "Millside Drive". There are a few hindered stories to be told about the folks who, like Willis once lived in this vanished African-American community. Heritage Productions may tell their stories one day, if "Master Storyteller" Willis Phelps Jr. can find an audience and the stage to present, "The Rest of The Story".
WPJr.
---
INFORMATION:
SCHOOLS – CHURCHES - ORGANIZATIONS
"LIVING HISTORY"
PROGRAMS/STORYTELLING
PATRICIA PHELPS (302) 429-0525
UNITED STATES COLORED TROOPS
1862-1865
PRIVATE (ENLISTED) INFANTRY SOLDIER
'C' COMPANY 8th U.S.C.T.
STORYTELLER/INTERPRETER WILLIS PHELPS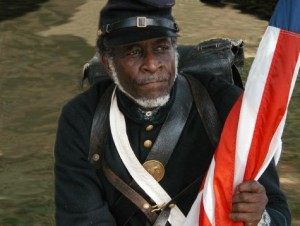 TITLE: "REFLECTIONS IN COLOR"
BY: ROBERT SEIDLE
PRINTS: 81/2 x 11 - $20.00 (w/o frame)
To Order Prints
Contact:
Patricia Phelps
(302) 429-0525
Phyllis V. Davis
(302) 573-6935

more»